Revised Quarantine Procedures FAQs
Revised student quarantine procedures were implemented November 1, 2021. Follow this link to the Frequently Asked Questions.
Early Childhood School Registration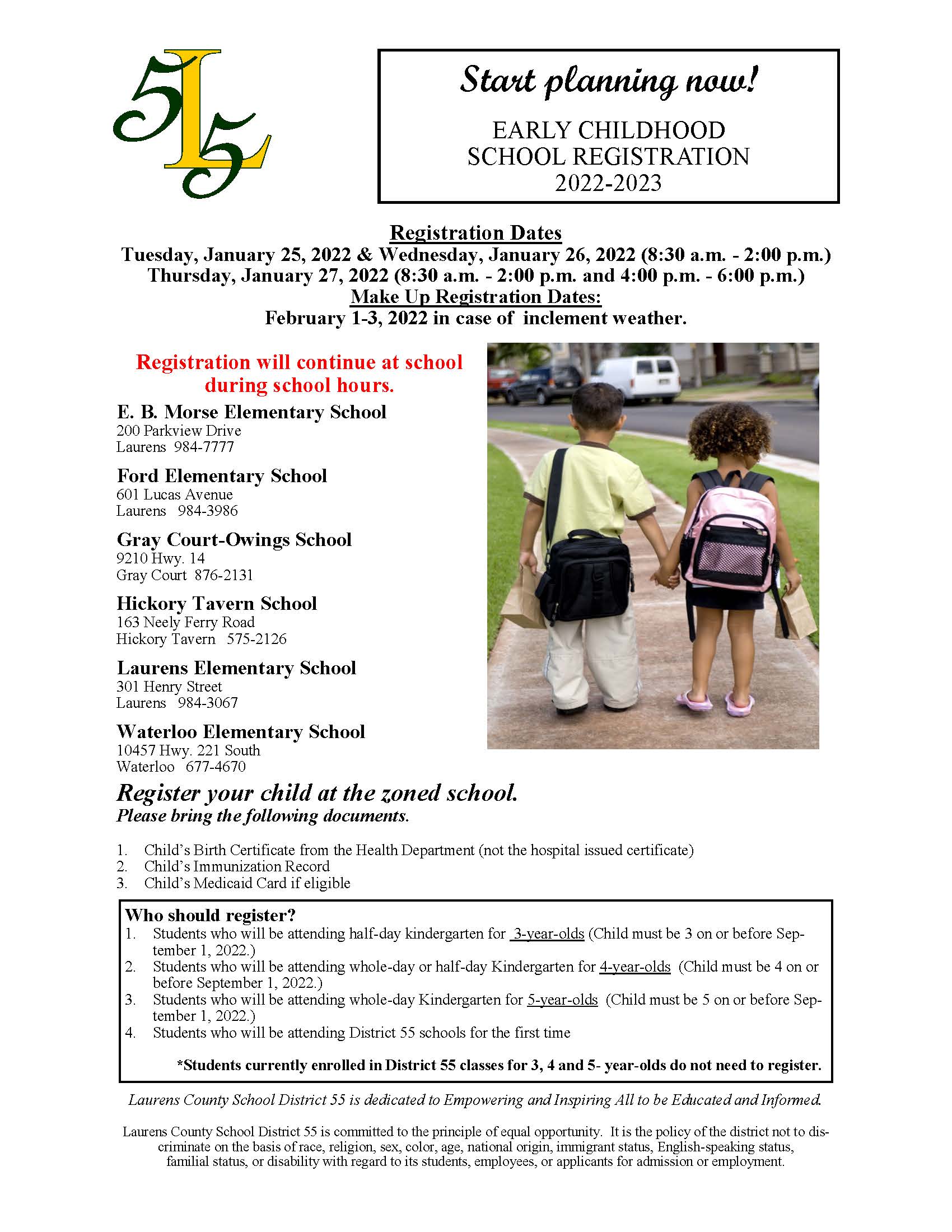 Registration for the 2022-2023 school year will begin on January 25, 2022.
The LCSD 55 Board of Trustees will meet on Monday, January 24, 2022, at 6:30 p.m. in the large training room of the district administrative office. The meeting agenda may be viewed here.
Due to the COVID-19 virus pandemic, limited seating is available for in-person attendance at the meeting.  Doors will open for seating at 6:00 p.m. Seats will be filled on a first come first serve basis.  The meeting will be broadcast via Live Feed on You Tube. The link will be posted below and on the LCSD 55 Facebook page.
Individuals who desire to speak during Public Participation must complete and submit this form to the office of the superintendent no later than 12:00 noon on the day of the meeting. The form is also available at the reception desk of the district administrative office.
Mission, Vision, & Guiding Principles
10 hours ago
Mission Statement
Empowering and Inspiring All to be Educated and Informed
Vision Statement
Laurens County School District 55 prepares students for success in learning and careers through engaging, challenging, and personalized learning experiences. Students are curious, confident in their own abilities, and competitive in the local, national, and global environment. Students are safe, valued, and supported in their learning by highly effective staff, families, and community.
Guiding Principles
Education is the shared responsibility of students, families, the school district, and the community. Laurens County School District 55 is committed to providing each student opportunities to reach his/her full potential by:
 Fostering a safe and caring learning environment with high expectations for each student.
 Offering challenging programs that meet diverse intellectual, social, and emotional needs of each student.
 Inspiring students to become self-directed learners in an ever-changing technological and multicultural world.
 Respecting one another and sharing accountability for achieving the goals of the school district.
 Providing an educational program that allows students to be college and career ready.

Sorry, but there was nothing found. Please try different filters.